Shutterfly has long been my go-to website for ordering Christmas cards. There are hundreds of designs to choose from, and if you time things just right, you can usually get them on sale for a good price. Here's our little collection that's been going for three years strong now.
In 2008…
In 2009…
In 2010…
Since 2011 was the year of my big girl camera buy, I was able to experiment with the self-timer feature on my camera and a tripod to get a good shot of the three of us to grace our Christmas card. It's usually my parents who get behind the camera to photograph us. But this year, I wanted to try it ourselves. And the verdict is that I'd prefer not to do it that way again. Why? Two reasons.
Reason #1: It's really, really ridiculously difficult to get The Bear to focus on the camera when there's no one standing behind it, making loud squeaky sounds or saying things like cheese, bacon or steak to get his attention. I resorted to placing a treat above the lens and then darting away to get in the shot. It worked for about 3 out of the 30 shots we took, including none of the following three below.
Reason #2: If you think The Bear is impatient, Mikey is about 10 times worse. I wanted to get the perfect shot. He wanted to watch football. And the big difference between him and The Bear is that I can't lure Mikey with loud squeaky sounds or the words, cheese, bacon or steak. On second thought, I take that back. Mikey probably could be lured with the words, cheese, bacon or steak.
When is all is said and done, we turned out with a great Christmas photo. The Bear actually gazed right into the camera in shots 26, 27 and 28. And 28 was the lucky winner. Thanks, Shutterfly, for another great Christmas card.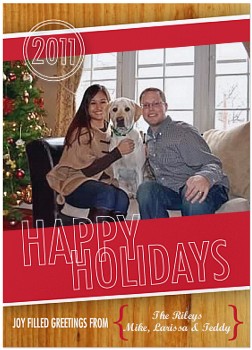 Happy Woodgrain Wishes Holiday Card